The Brother CS6000i is a great machine for beginners and intermediate sewers as well.  This model gives the user a lot of features for both sewing and quilting and the price is excellent as well.
It has an oversized table that is detachable and that makes sewing larger projects much more manageable.  It comes with several different presser feet that make the process of quilting much simpler.
If you have wanted to learn to quilt, this is the perfect machine to get started with.
The Brother CS6000i is made of plastic so it is easy to move around or take with you to sewing class.  The machine stays clean and is easy to keep maintained.  Be sure to place the machine on a sturdy table to sew, since it can shake a little due to being a more lightweight model.  It has a backlit LCD display that is super easy to see, and other great features that make it a pleasure to use.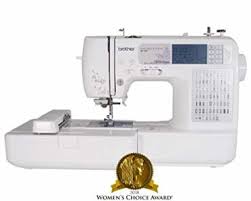 Stitches
The Brother CS6000i has a multitude of stitches that you can choose from. There are 27 stitches that are for the specific purpose of sewing clothes, and many others.  You have over 60 total stitches that you can choose from including buttonhole stitches that offer you a choice of 7 different buttonhole styles that are all conveniently just one step which is always a plus.   You will be able to choose from stitches such as:
Triple stretch stitch that is great for sewing reinforced seams so they're strong and prevent tearing.
Basting stitches that are used when you want to temporarily secure a seam while you are in the fitting stage of making the clothing.
Blind hem stitch that allows you to put hems on skirts, sleeves and pants that are basically undetectable.
Overcast stitches that help any fabric you are using to not fray
These are just a few of the many stitches you have access to with this sewing machine.  You will find that there are a few that you use more than others, but having these other choices is always a nice feature.
Ease of Use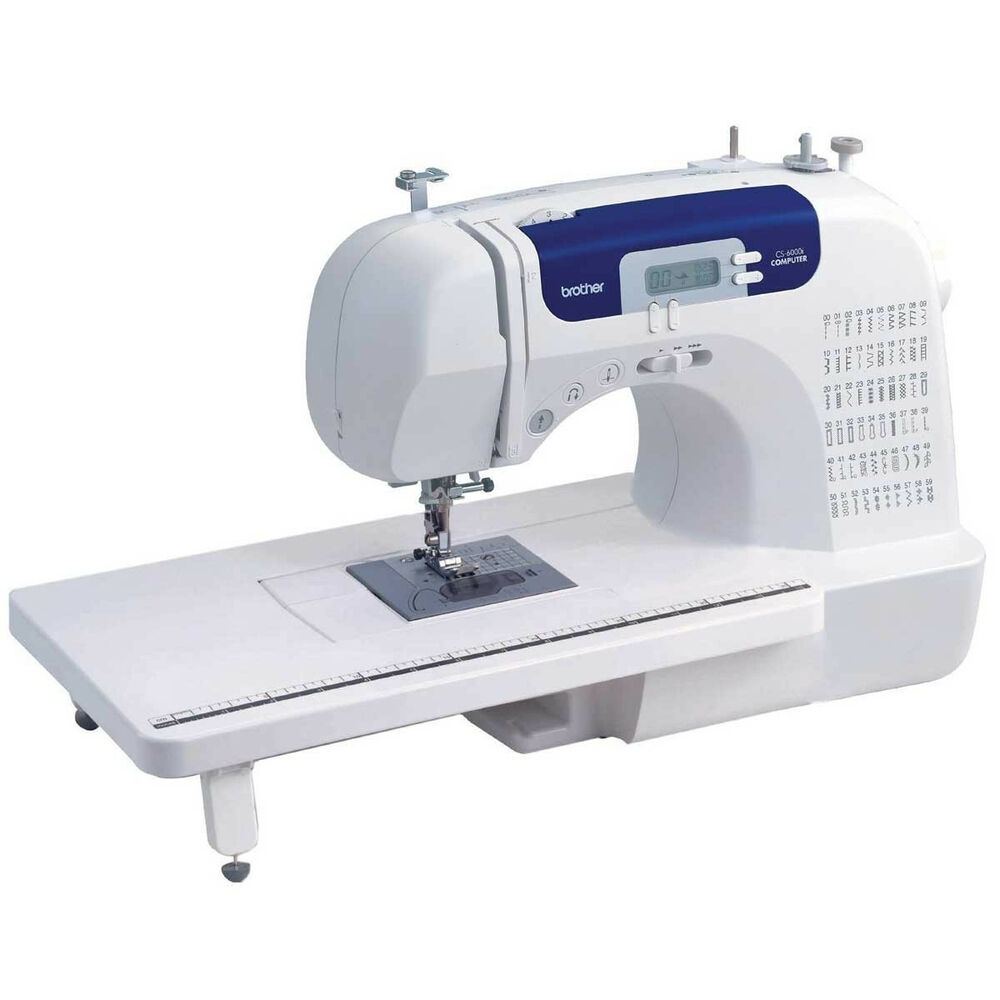 Some people say that beginners shouldn't get computerized sewing machines, but the Brother CS6000i is a great sewing machine for beginners and also leaves room to grow and learn on it as well as you become more experienced.
There are a few things that make this sewing machine very easy to use which is why it is such a customer favorite.
For starters, the instruction manual is very easy to read and understand. The LCD display screen is easy to view and the extension table is very handy for any sewers who do larger projects or quilting.
The light above the needle isn't super bright so you may want to have an additional light source available.  It doesn't have a memory function so be sure to make notes concerning favorite stitches or what stitch you were using on a particular project. If you keep good notes, the absence of the memory function won't be a horrible.
One handy feature is that the LCD screen will display what presser foot to use with certain stitches so beginners won't have to guess.
Features
The Brother CS6000i has many features that make this a great choice for new and intermediate sewers.  It comes with a detachable, oversized table that makes working on large projects super simple.  It also comes with 9 presser feet including one for buttonholes, one for zippers and more.  Other features include:
Automatic needle threader
Free arm for sewing sleeves
Adjustable speed control
Easy bobbin winding
Easy machine threading
Extra Accessories
Some extras that you will get when you purchase the Brother CS6000i include handy things such as an accessory pouch that has several needed items that you will use regularly.  These will include:
Needle set
9 presser feet
Seam ripper
Cleaning brush
Spool caps
Spool pin
Power cord
Bobbins
Eyelet punch
Additionally, there is a walking foot, spring action quilting foot, a quilt guide foot holder and it even comes with a hard protective sewing machine case. With all of these extra features, the sewer can do even more with their machine and not have a hard time doing it, even if they are brand new to sewing.
Customer Comments
Reading about what others have to say about the Brother CS6000i sewing machine can give you some inside information that you wouldn't find on a selling site. Since people are very honest the majority of the time about their personal experience with a product, you can use these comments to help you decide if this is the right model sewing machine for your needs.  Below are some of the things customers have to say about this sewing machine from Brother.
"This machine represents the most incredible value-for-money on the market today. It is very, very easy to use, and the manual is exceptionally helpful."
"Great price and works perfectly. I appreciate the easy to understand user's manual that came with the machine as it had been over 10 years since I last used a sewing machine and didn't remember how to do the threading and work the bobbins and what not"
"I bought this machine about a year ago and it hasn't let me down yet. It works today as well as when I first bought it."
"Great machine for the price. Just started sewing again after years and I love this machine. Quiet, and easy to use!"
"Easy to use. Quality performance. The extended arm helpful with quilting and larger projects."
Warranty
This Brother CS6000i sewing machine comes with an impressive 25 year limited warranty to give users even more peace of mind. Brother is known for high quality products and their 25 year warranty shows the belief they have in their product.
Summary
If you're looking for a great sewing machine to learn how to sew, or if you've already been sewing but want to improve your skills, you'll love the Brother CS6000i.  It has tons of features that are great for both sewing and quilting and you get a lot of accessories as well. The manual reads very easily and makes learning the workings of the sewing machine super easy.
For More Information and to Order Yours Now, Click the Link Below
Brother CS6000i Feature-Rich Sewing Machine
Brother CS6000i Review
Included Features

Number of Stitches

Ease of Use

Extra Accessories

Warranty