The Brother HC1850 is a sewing machine that handles the basics and a whole lot more.  There are plenty of features to use and even if you are a beginner, you can get a lot of use from this machine without a lot of difficulty in learning how to use it.
Not only can sew with it, you can do monogramming, quilting, add decorative stitches to projects, sew buttonholes and much more.
It only weighs 10 pounds so if you're taking a sewing class away from home, transporting your sewing machine is easy.  The price is really reasonable for the amount of features and accessories you get.
With all of the automated features it has, the learning curve is pretty good and beginners shouldn't have too hard a time learning to use everything.  It is definitely a sewing machine that you can plan on using and having for a long time since it is one that can grow with you rather than having so few features you outgrow it quickly and need a new one.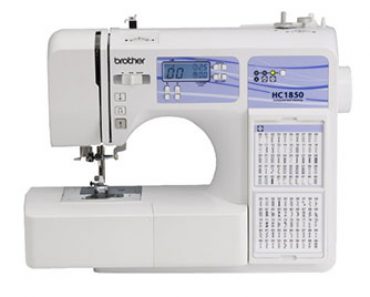 Stitches
Users have 150 different stitches to choose from with the Brother HC1850.  The flip down design that this machine offers makes it easy to see all of them so you can decide which ones you want to use. Included in that 130 stitch count are:
42 garment construction stitches
14 quilting stitches
12 heirloom stitches
8 different buttonhole styles
94 decorative stitches
Ease of Use
There are plenty of things that make the HC1850 easy to use.  Starting with the attached stitch reference flip chart and plenty of presser feet, users will not feel like they are on their own to figure out what to use or how to do it.  The automated needle threader is easy to use and saves you from pricked fingers.  Add in the 1 step auto-sized buttonhole designs and the built in sewing fonts for anyone who wants to do monogramming and you can see just how many options you have and how easy they are to learn.
The backlit LCD screen is push button operated and you can use it to choose which stitch you want to use.  Your chosen stitch will show up on the display screen including any other details that are helpful to you.  The wide table that detaches is great for quilting and other big projects.  Additionally, the 14 stitch functions and spring action quilting foot combine to make quilting enjoyable and virtually stress free.
Some say it is too advanced for beginning sewers but if you can learn and give yourself time to familiarize yourself with everything this sewing machine offers, then you will have a machine that will last you a good long time and will complement your increasing skills as well.
Features
You will enjoy an array of features with the Brother HC1850.  Along with the LCD display screen you will have the benefit of easy bobbin winding, an exceptional feed system that moves the fabric smoothly, ensuring precise stitches that are professional quality-worthy.  The drop feed system allows users hands-free operation which means you can keep your hands on the fabric where they need to be.
This feature makes quilting much easier to do.  If you are familiar with the foot pedal and prefer that, you can use it, but there is also a start/stop button that starts and stops the machine with the push of the button rather than the foot pedal, so if you prefer pushing the button, you have that choice as well.  Some more of the many features included in this machine are:
Bright LED-lit work area
Adjustable sewing speed
Quick-set drop in bobbin
Built in handle
Lightweight and easy to move
Lots of stitches to choose from
Great list of accessories
Extra Accessories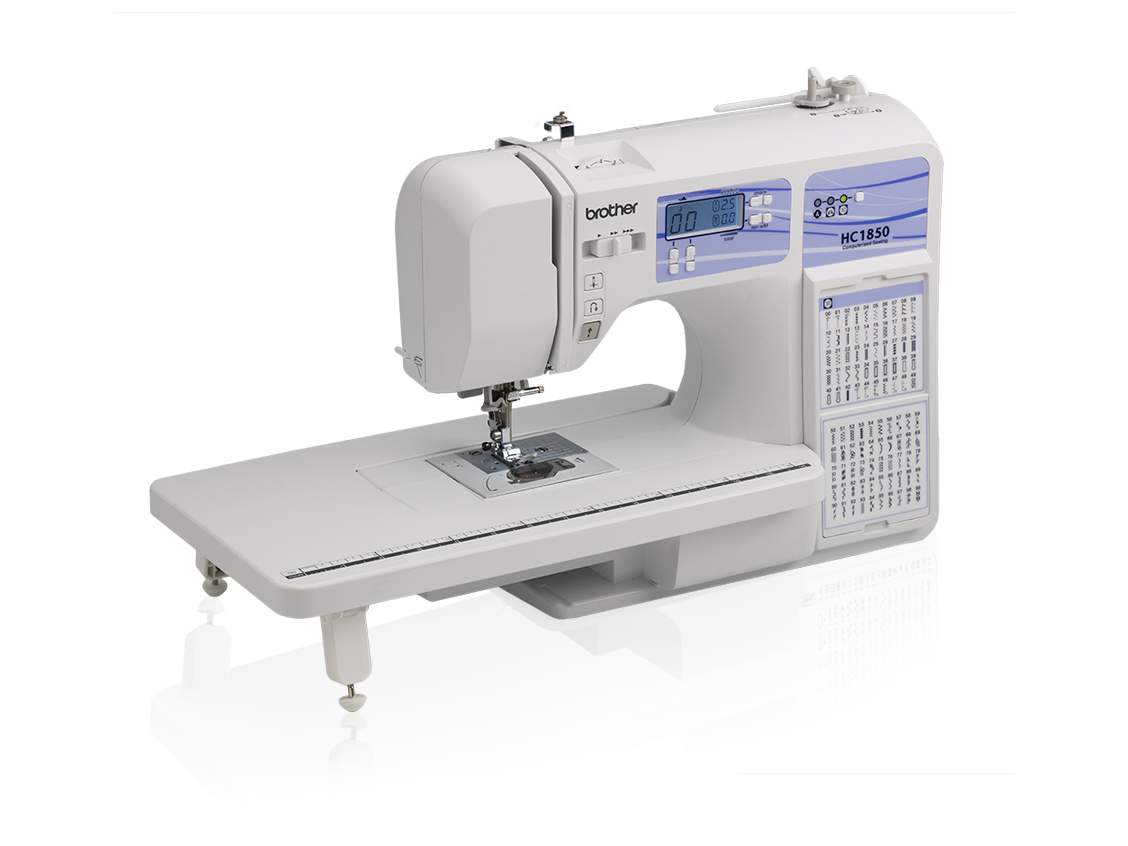 If you enjoy a variety of accessories, you will love the list that we have for you that is included with the Brother HC1850.
Buttonhole foot
Zipper foot
Overcastting foot
Monogramming foot
Button sewing foot
Spring action quilting foot
ZigZag foot
Blind stitch foot
Needle set
Detachable wide table extension
Foot pedal
Bilingual English/Spanish instructional DVD and operations manual
Power cord
4 bobbins
Extra spool pin
Seam ripper
Screwdriver
Twin needle
Ballpoint needle
Cleaning brush
Eyelet punch
3 spool caps
Customer Comments
Customer comments and feedback is a great way to get some inside information on the HC1850. People are typically very willing to talk about their personal experiences with a product they have purchased and this is information that will not be on the selling sites. You will get to learn how people are feeling about the sewing machine once they have used it and what they like about it as well as what they may not like.  Below are some of the comments customers have left about the Brother HC1850.
Warranty
The Brother HC1850 comes with a 25 year limited warranty and free phone support as well. Brother is a long standing reputable name in sewing machines and they stand behind their products.  You will have a lot of peace of mind knowing that your machine is covered by their protection should anything be wrong with it.
Summary
The HC1850 by Brother is a great computerized machine for beginners and intermediate sewers and quilters alike.  The flexibility and functions this machine offers can take a beginner to a more advanced level easily and makes sewing, crafting and quilting projects enjoyable and fun to do.  You will love everything it offers, enjoy how easy it makes things for you, and you'll love the price too.
For More Information and to Order Yours Now, Click the Link Below
Brother HC1850 Computerized Sewing and Quilting Machine
Brother HC1850 Review
Included Features

Number of Stitches

Ease of Use

Extra Accessories

Warranty