If you are a beginner to sewing you may be a bit confused about the kind of sewing machine you need.  The Brother PC420 may seem like it is too advanced for beginners but the opposite is true.
With the large array of features and accessories as well as the ease of use, this is the perfect machine for beginners because it leaves room to grow and expand your knowledge.
Instead of starting with a super basic model and then having to get another sewing machine once you master certain skills, you'll have a machine that you can learn and grow with.  The PC420 from Brother has a lot of power and automation which actually make it very easy for new sewers to learn.
You will be able to handle all varieties of fabric, even very delicate laces and sheer fabric.  When you want to learn how to make your own clothes or clothing for your family, this ability to handle all kinds of fabrics is an important one.
Stitches
When it comes to stitches the Brother PC420 has you covered with 294 built-in stitches. Included in the stitch lineup are 10 different styles of 1 step buttonholes, 3 different fonts of letters: Gothic, Script and Outline, numbers and characters and a total of 55 characters and letters.  Additionally you have:
5 cross stitches
10 decorative satin stitches that have adjustable stitch density
16 satin stitches
31 decorative stitches
Faggoting
Shell tuck
Scallop
Heirloom
Smocking
Vines
Hearts
Scrolls
67 utility stitches including:
Straight
Zigzag styles (several)
Stretch stitches
Blind hem
Overcastting
Overedge
Basting
Appliqué
Patchwork
Piecing
Joining
Users can choose whatever stitch they want to work with from the control panel buttons.  It even has 12 direct-select buttons for the utility stitches that are the most commonly used.  Another really fun feature of the PC420 is called the My Custom Stitch creation program.  Users can design their own stitch designs and save them to the sewing machine for future use.
Ease of Use
Despite all of the many features and accessories that the PC420 offers, it is designed to be easy to use, which is one of the reasons it is such a great choice for beginners.   There is also a lot of room to expand your knowledge with this machine which means you won't outgrow it after a few months of regular sewing.
Features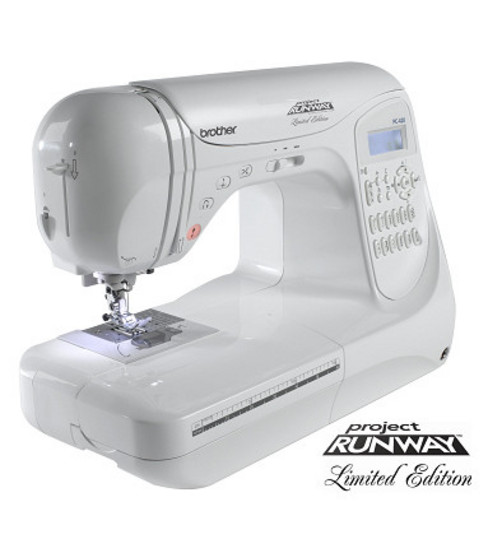 When a sewing machine has a lot of features, the sewing experience will be much better and more enjoyable as well.
It also means that a lot of the frustrating tasks are taken care of.
The Brother PC420 has a long list of features that will be pleasers to any sewer regardless of their experience level.
These features include things like:
6 point feed dog system
Auto needle threader
Twin needle function to make parallel stitch lines
850 stitches per minute
Quick set bobbin
Free arm sewing
Adjustable thread tension
14 needle positions
Speed control
Horizontal top thread delivery
Drop feed dog level
Thread trimmer that is programmable
Start/stop button (no need for the foot pedal)
Reverse/reinforce button
Needle up/down button
See-through bobbin cover
Knee lifter
LCD control panel
Multi-lingual capability (English, German, French, Italian, Dutch, Spanish, Danish, Norwegian, Swedish, Finnish, Portuguese, Russian, Korean and Japanese.
Displays recommended presser foot, stitch being used, stitch width, stitch length
Various functions show in graphics on the LCD screen: 4 arrow keys, ok button, back button
Bright work lamp
Built-in carry handle
 Extra Accessories
If you love accessories, you're going to love the Brother PC420.  Accessories galore are offered with this great machine.  We've outlined the included accessories below:
Quilting foot
General purpose foot
Zipper foot
Walking foot
Overcasting foot
Buttonhole foot
Monogramming foot
Blind Stitch foot
Button fitting foot
Stitch Guide Foot
Adjustable zipper/Piping foot
Non stick foot
Open toe foot
Organizer tray inside the machine for accessory storage
Seam ripper
4 bobbins
6 pack of needles
Twin needle
Cleaning brush
Eyelet punch
2 screwdrivers
4 spool caps
Extra spool pin
Spool net
Grid sheet set (for use with the My Custom Stitch design)
Hard Cover Case
Spool net (used to protect spools of thread where the thread comes off more quickly than regular thread, like transparent nylon thread)
Grid Sheet Set for My Custom Stitch design
Customer Comments
One of the best ways to find out how a particular product is doing in the market is to read customer feedback and comments.  These comments can give you information that isn't available on the regular selling sites.  Below are some of the comments that customers have to say about the Brother PC420.
"I love this machine! It is so quiet. Sews very nice stitches. The threader is great. The thread cutter is great."
"Absolutely LOVE this machine. I can honestly say that I couldn't be happier with my decision to buy it and would make the same choice all over again."
"This machine was everything I thought it would be and so much more!!"
"If you're looking for a good sewing machine, this will be the one you want."
"I love this sewing machine. Great product for your money."
Warranty
Brother offers customers a 1 year warranty on parts and labor, a 2 year warranty on electronic pattern control and selection component parts (no labor) and a full 25 year warranty on shafts and rods on the sewing machine head.  These warranties provide the customer with peace of mind and the knowledge that the company stands behind their products.
Summary
With all of the models of sewing machines available, finding the perfect one for your needs can feel really overwhelming.  This Brother PC420 sewing machine takes away the confusion and provides a machine that is perfect for beginners and experienced sewers alike. Tons of features, a long list of accessories and ease of use are what you get with this model.  Beginning sewers can start slow and work at their own pace, learning to use the many features as their knowledge increases.  It's a machine that will grow with you and prevent you from having to buy another sewing machine in a few months to a year once you have mastered the basics.  You won't be disappointed.
For More Information and to Order Yours Now, Click the Link Below
Brother Project Runway PC420PRW Professional Computerized Sewing Machine
Brother PC420PRW
Included Features

Number of Stitches

Ease of Use

Extra Accessories

Warranty