The latest model from Singer is the Singer One plus Sewing machine. It is by far one of the easiest sewing machines to use and comes with a lot of advanced features that makes it a machine that can grow with the skills of the user.
It's very quiet and smooth during operation although the instructional materials are a bit lacking.  It is very user friendly and sews through thick materials easily.
If you are a beginner, you will find the easy to use design enjoyable and not overwhelming the way so many sewing machines can be. It is a machine that can grow with you as your skills increase and that means you won't be looking for a replacement sewing machine after using it for a few months.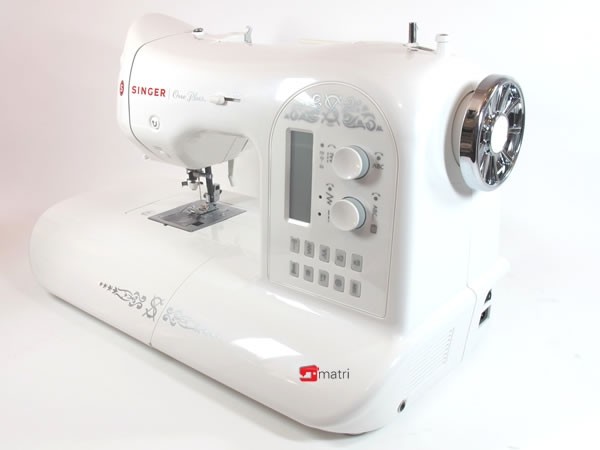 Stitches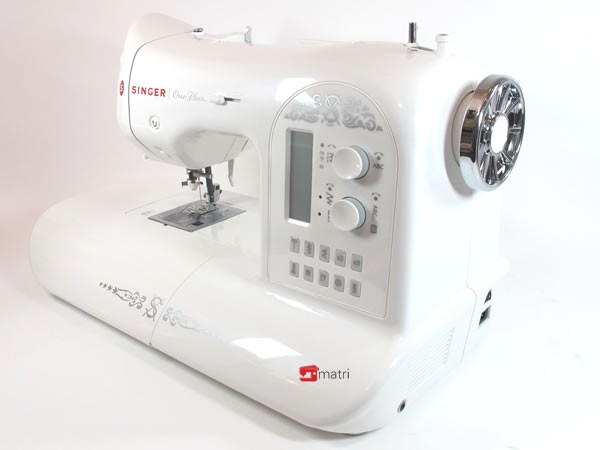 The Singer One Plus has 231 total stitches which is a good amount for a beginner to work with. Advanced users may find that they want more variety, but this is definitely a good amount to work with at first. Included in the stitches that are available are:
212 decorative stitches
5 stretch stitches
6 different, fully automatic, 1 step buttonholes
1 endless buttonhole
7 essential stitches
Users can also do combination stitches with this machine. Save them on the memory the machine has so you can use them again later.  You can set the width and length of the stitches manually or use the auto set for the easiest and best results.  The direct selection of popular stitches that are used more often than others is very welcomed and you can even program it for the stitches YOU use most often.
Ease of Use
Being easy to use is a feature that all sewers want, regardless of their experience level. The Singer One Plus provides this. There are YouTube instructional videos available that can help with getting started using the machine and that illustrate various functions such as threading the machine.  It has a heavy duty metal frame provides sewers with a steady, skip-free sewing experience and it's long lasting too.
You will have an easy to see view of the stitches you're using and their settings in the LCD display window.  Gone are the days when you only had the foot pedal to power a sewing machine.  It also has a speed control slider right in the front of the machine and other features that make it super easy to use and get to know.
You will experience smooth and perfect stitches, an excellent feeding system and the automatic needle threader is truly a blessing and helps avoid those pricked fingers.  Another popular feature of this sewing machine is the THREE bright LED work lights that it has to illuminate the work area so you can see what you're working on.
Features
If features get you excited about a purchase, get ready to be ecstatic with the features offered with this Singer model.  These features include:
Save/edit select stitch combinations
Auto needle threader
13 needle positions
Snap on presser feet
Twin needle capable
Stitch selection dial
Manual override of auto stitch length and width settings
LCD display
Drop in bobbin system
Extra high presser foot life
3 LED worklights
Needle up/down function
Presser foot sensor
Feed dogs can be dropped
7 point feed dog system
Large sewing area
Start/stop button
Automatic tension control
Speed control lever
Removable free arm
Reverse button
750 stitches per minute sewing speed
Built in thread cutter
Extra Accessories
Accessories are another thing that users want to see a lot of. When you purchase the Singer One Plus, you will get a list of extra accessories that automatically come with it.  These include:
All purpose foot
Blind hem foot
Satin stitch foot
One step buttonhole foot
Zipper foot
Needle set
Class 15 bobbins
Spool caps
Auxiliary spool pin
Pin felt
Screwdriver
Seam ripper
Lint brush
Intro DVD (not worth much as it is not about the Singer One Plus apparently)
Foot control
Power cord
Storage in the free arm
Soft dust cover to protect the machine from dirt and dust
Customer Comments
Customer comments are very helpful in learning more about a product you want to purchase. Since most people are ready and willing to talk about their personal experiences and opinions, you can find out a lot about these machines and how they work when people are using them for regular sewing.  Below are some of the things people have to say about the Singer One Plus.
Warranty
This UL listed Singer One Plus has a 25 year limited warranty that breaks down as follows: 1 year warranty on the adjustments, belts, rings, bulbs and attachments; 5 year warranty on the motor, lights, wiring, speed control, electronic components, wiring and switches and 25 year warranty on the sewing machine head.
Summary
If you want an easy to use sewing machine that you won't outgrow in the first year, this is the one for you. Lots of features, a good assortment of accessories and user friendly are just a few of the many reasons it's a customer favorite.  If you're ready to take the plunge and get started with sewing, this would be a good sewing machine that you can learn and grow on.
For More Information and to Order Yours Now, Click the Link Below
SINGER One Plus Computerized Sewing Machine
SINGER One Plus Review
Included Features

Number of Stitches

Ease of Use

Extra Accessories

Warranty