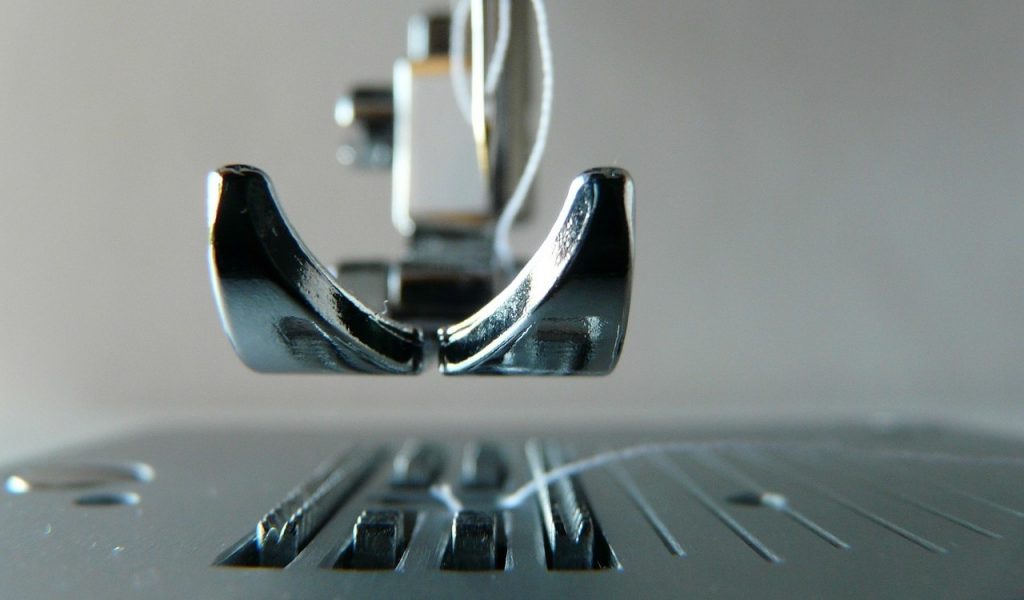 We have tested several sewing machines to discover the best sewing machine for beginners. Take a look at the top rated sewing machines below. We provide both a detailed review and a side-by-side comparison so you can select the best sewing machine for your use. There are several things to think about before you invest in your first sewing machine for home.
We list relevant information that should be considered and decided on before you purchase the best starter sewing machine. The buyer's guide is sure to be instrumental in helping steer you to the right sewing machine for your skill level.
Best Overall Sewing Machine
Brother
If you are a beginner to sewing you may be a bit confused about the kind of sewing machine you need. The Brother PC420 may seem like it is too advanced for beginners but the opposite is true. With the large array of features and accessories as well as the ease of use, this is the perfect machine for beginners because it leaves room to grow and expand your knowledge.
Read more
.
–
Melissa Barlow
Best Sewing Machine Runner Up
Brother CS6000i
The Brother CS6000i is a great machine for beginners and intermediate sewers as well. This model gives the user a lot of features for both sewing and quilting and the price is excellent as well. It has an oversized table that is detachable and that makes sewing larger projects much more manageable. It comes with several different presser feet that make the process of quilting much simpler.
Read more
.
–
Melissa Barlow
Best Serger Sewing Machine
Singer Serger Overlook
The Singer Serger Overlook is an excellent choice for those of you that are begging to use a serger sewing machine. If you are a beginner ate using sewing machines, then it is best to start with a standard sewing machine.
This model has 2-3-4-5 thread capability providing a wide selection of stitch options a variety of projects making your beginner serger work to have professional results.
– Melissa Barlow
Best Sewing Machine for Quilting
Brother XR9550PRW
If you are looking for a free motion quilting sewing machine, then the Brother XR955oPRW is the best sewing machine for beginning quilters. The included table works well and best for free motion quilting on the 45×60 setting. You will grow your confidence quickly after using this sewing machine and seeing how each stitch comes out while quilting.
Beginners to quilting will find the multiple foot sets, easy to use settings, and needles a great fit for multiple projects. There is also a Black Special Edition of the Janome Heavy Duty HD-3000.
– Melissa Barlow
Best Embroidery Machine
Brother SE600
The Brother SE600 has been awarded the 2018 Women's Choice Award in the embroidery machine category. This computerized sewing and embroidery machine features a large touchscreen and an embroidery field with an included hoop, embroidery arm, and foot. This feature rich entry level embroidery machine is incredibly user friendly, with easy to use adjustments and thread capability.
The USB port makes uploading new designs simple while using a memory stick or sync cable. This is a dual use machine nad the best sewing and embroidery machine packaged in one. The user manual lists clear directions for anyone interested in an embroidery sewing machine for beginners.
– Melissa Barlow
Best Sewing Machine for Leather
Janome HD3000 Heavy Duty
Janome is known for making great sewing machines. The HD300 is the best sewing machine for leather, especially for beginners. The automatic needle threader, easy stich selection, and quick response foot pedal gives this the edge for those seeking the best sewing machine for beginners seeking a leather sewing machine.
We have found that anything leather that can fit under the presser foot of this machine can be sewn.
– Melissa Barlow
Best Sewing Machine for Clothes
Juki Pearl Line MO-654E
The powerful Juki Pearl serger has a dedicated drive cutting system and high quality stitch formation making it best for making clothes. The safety features integrated in the design of this sewing machine make it great for beginners searching for a sewing machine for making clothes.
The threading feature is easier to use than other sergers making this a top rated sewing machine for making clothes.Once you begin working with the Juki MO-654E, you too will agree, it is the best sewing machine for making clothes.
– Melissa Barlow
Best Budget Sewing Machine
Singer Heavy Duty 4423
Looking for the best sewing machine for beginners? Budget sewing machine shoppers will be very satisfied with the Singer Heavy Duty 4423. For a budget model sewing machine the features included are incomparable when it comes to pricing and features.
This is a heavy duty sewing machine with an automatic needle threader, maximum sewing speed of 1,000 stitches-per-minute, and a variety of accessories. The search for a cheap sewing machine that is not built with low-quality parts is over with the availability of the Singer Heavy Duty 4423 sewing machine.
– Melissa Barlow
Best Portable Sewing Machine
Singer Quantum Stylist 9960
The best portable sewing machine for beginners is the Singer Quantum Stylist. If you are taking a sewing class, then this portable computerized sewing machine is the best choice. Because of the "ease-of-use" features, we loved seeing how this portable sewing machine unlocked our creativity.
We are sure that the automatic needle threader, large selection of stitches, and font selection will work out well for you if you are looking for portability in a sewing machine.
– Melissa Barlow
Best Sewing Machine for Kids
Singer Start 1304
When I introduced my kids to sewing, I wasn't sure if they would be better off using one of my own or if I should get one for their personal use. After trying out several models with the kids, the Singer Start 1304 was found to be the best sewing machine for kids.
The singer-free arm portable sewing machine has 6 built in stiches with a 4-step buttonhole. This lightweight and portable for ease of use for kids.
– Melissa Barlow
Sewing Machine Buyer's Guide
Sewing is a pastime that has been around for decades, yet it is still very popular even in today's society.  If you've never used a sewing machine before and you want to learn, this is the perfect buying guide for you because you'll learn everything you need to know to purchase the best sewing machine for your needs as a beginner. We've made it easy to find the best-rated sewing machines for beginners. If you're on the fence about whether to get your own sewing machine, here are three great reasons why you should buy one.
Sew whenever you want – If you've taken sewing classes or even used someone else's sewing machine for a few projects, you will love the freedom having your own sewing machine will give you. Having your own sewing machine means you can sew whatever you want, whenever you want. If you want to take lessons and you get a more portable model for beginners, you can easily take it to class with you or find someone who teaches in your home. 
Save money by making your own items – Learning to sew means being able to make your own clothing and clothing for your kids if you have them, as well. It also means you can repair clothing you find in thrift shops and consignment shops quickly and easily.  Being able to do this can save you a lot of money and the clothing will be put together better as well, which means it will last longer. 
Make Friends with Others who Love Sewing – There are many people who share a love of sewing and with classes and clubs that are around, it can be a great way to meet others with the same interests in sewing that you have. If there isn't anything in your area already, think about setting up a sewing club where several people get together with their sewing machines and exchange ideas, patterns and just socialize and sew together.
What to Consider Before Buying Your First Sewing Machine
Decide on a Budget – Knowing how much you can spend on a sewing machine is helpful in narrowing the many choices that are available. With so many styles and brand names available to choose from, it can be really overwhelming to try and figure out which is the right one for you.  Having a budget in place can help get rid of the models that are higher than what you want to spend.  The idea is to buy the best sewing machine that you can afford but don't spend more than you can afford. You'll find that the best sewing machine brands will benefit your budget by keeping you from purchasing a frustrating and unusable machine You can always get a high-end machine later on if you find that you do a lot of sewing and want to continue to improve your skills.
How many Stitches? – There is a big difference between what you need and what is fun and exciting.  In reality, the only stitches you really NEED in your sewing machine is a straight stitch and a zigzag stitch.  You can do everything with those two stitches.  It sounds fun and fancy to have a machine that has over 200 stitches, but when it comes down to it, if you only ever end up using the straight stitch and zigzag stitch you've wasted money to get a bunch of stitches you don't use.
Adjustable Stitch Length – A very useful feature and one that you will use often is the adjustable stitch length. This is a feature worth having and you will find that you use it often. Some of the more basic and lower-priced machines don't offer this capability, so it's worth paying a bit extra to make sure you can do this with you stitches.
What Attachments does the Machine Have?- Finding out what kind of attachments a sewing machine offers is a priority when looking for the right one for your needs.  A good selection of presser feet always makes a big difference in your sewing capabilities.  Some attachments come as standard features of the machine and others are bought separately.  Some examples of good attachments to look for are:
Buttonhole foot
Zipper foot
Blind hem foot
Walking foot (for those who want to make quilts)
¼" foot
Embroidery foot
Different width feet
These are a few of the many types of presser feet that you can get. Some will come included with the machine but you will need to check the descriptions to make sure you know.  If they are not included then you should be able to buy them separately.  You will also want to check the ease in which the feet can be changed. Some sewing machines have feet that clip on and off easily which makes switching out super convenient.
Motor Size – In general, the heavier the motor is the stronger the sewing machine will be. If you're going to be sewing heavier fabric often such as denim or upholstery weight fabric, a heavier machine will make it much easier to handle these tougher fabrics. A sewing machine that is mostly plastic will simply not hold up under the kind of use that a metal parts machine can.  If you will be transporting your sewing machine around  often, having a heavy machine can be a little frustrating but there are models available that have plastic bodies and metal parts which make them easier to move but still strong enough to handle heavy use.
Brand DOES Matter – There are several brand names that are better known when it comes to getting a good sewing machine for a beginning seamstress. Brother, Singer, Janome and a few others are all excellent models with a proven track record of quality and durability.  When you are shopping around be sure to really research the different models and what you are getting before you purchase. This website has made a point to review the best sewing machine brands for beginners and made a point to categorize them by usage or niche.
Noise Level – You may not think about this before you purchase a machine but if you end up getting a noisy sewing machine you will definitely notice. Many people sew at night after the kids are in bed, so having a super noisy machine can disturb their sleep and keep them awake.  Make sure that when you do your research you look for models that talk about quiet operation.
Mechanical or Computerized? – Most of the higher end sewing machines on the market today are fully computerized. They have touch screens and programmable stitches as well as other features but they can be extremely high priced. The mechanical machines are typically lighter weight than the computerized because they have fewer parts.
This makes them much easier to carry around, especially if you are taking sewing classes and need to bring your machine with you. They may not sound as fancy or have as many frills but when you are first starting out, you will not get much use out of the fancy bells and whistles the computerized models have. Most of the newer machines are capable of handling heavier materials and whether they are computerized or mechanical, you can find a lot of benefits to either type.
How often will you be Sewing? – This question may be hard to answer but an honest assessment of how much you will be using your sewing machine will determine what kind of sewing machine you get. Some sewers only sew once in a great while. If this is you, it would not be very practical to buy a higher end, lots of features machine.  It does make sense for you to spend a bit more money on a good machine if you are going to be using it on a daily or weekly basis.  A good quality machine WILL make sewing more enjoyable but it's just not worth the money if you only plan on using it a few times a year.
What will you be Using it for? – Will you be pulling it out to sew Halloween costumes and then it won't see the light of day for months?  Are you going to make clothes for your kids and want to sew every chance you can?  Knowing what you are going to do with your machine is paramount in determining the model you decide to get. The more you plan on using it, the higher end model you should try to get for your budget.  Rule of thumb is to buy a machine that will handle your current skill level but also have plenty of option for it to "grow with you" as your skill level improves.
What is your Skill Level?- Chances are, if you're reading this buyer's guide, you are not a seasoned, long-term sewer. There's nothing wrong with being a beginner. Everyone started somewhere!  Be honest about your skill level and understand that as your skill level increases beyond what your machine can do, you can upgrade and buy a new one with more features that you can learn.
Types of Sewing Machines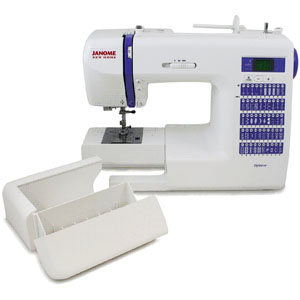 There are several different types of sewing machines available on the market.  Some are better suited for beginners than others and all of them have different skill sets that they are best suited for, as well as different features.  It can be tricky trying to figure out which sewing machine is the right one for you and your skill level among all the choices.  We have outlined the differences between the sewing machines below so you have a better understanding of each type.
Mechanical Sewing Machines – These are the simplest of the types of sewing machines and run on electricity.  Most of the functions that a mechanical sewing machine does have to be adjusted by the person doing the sewing.  This can escalate the trial and error process if the person using the sewing machine is not very experienced.  It may be a little more time consuming to use a mechanical sewing machine, but they can be ideal for learning on since the functions are so much simpler. They are usually less expensive as well.
Electronic Sewing Machines – These machines have a few more functions and capabilities than the mechanical sewing machine.  Electronic circuit boards were added to electric powered machines back in the 70s.  It opened up the opportunity for sewers to have more speed without sacrificing any important power and it also improved the bobbin and needle control as well.  Some electric machines have a feature that allows them to automatically cut the thread and adjust the tension and stitch length for certain projects. This is a big time saver for the sewer.  Some electric models can also automatically sew buttonholes and all the sewer has to do us put the size and shape into the machine.
Computerized Sewing Machine – These are the most professional of the sewing machines and work great for an experienced sewer.  They typically have a built in stitch library and when a certain stitch is chosen, the needle position and thread tension will automatically align itself to the proper position.
They can be good for beginners but since they do most of the work for the sewer it can actually hamper the learning process and not teach the beginner very much about how to actually use a machine.  If the beginner is going to use their machine a lot, a computerized sewing machine can be a good thing for them as long as they learn to do some of the processes as well.  These machines usually come with a lot of special features such as being able to repeat a designated pattern over and over again or even to create fancy embroidery.
Basic Parts of a Sewing Machine
There are some basic parts that exist in all sewing machines regardless of make or model.  We have outlined these parts below to help give you a little bit of a working knowledge of sewing machines and what the different parts are as well as what function they serve.
Feed Dog – These little teeth like parts move your fabric forward when you are sewing. They are located under the needle.
Presser Foot – This guide makes sure your fabric is guided properly to the needle and also presses the fabric down to the feed dog. There are many different kinds of presser feet that have different jobs such as a buttonhole foot that is specifically for creating buttonholes and so on.  Some presser feet may be included in with the sewing machine you purchase but you can buy other types as well.  It's always convenient to buy presser feet that just clip on and off the machine. It makes changing them much easier and simpler.
Bobbin – Bobbins are tiny spools of thread that the machine threads together with the needle thread to form the stitch. Bobbins come in many different colors.
Pedal – This handy pedal that you depress with your foot controls the speed of your sewing machine. It is what starts and stops the sewing process…press the pedal down and the machine goes, lift your foot off the pedal and the machine stops.
Foot Lifter – You can control your presser foot with this foot lifter. It is normally found at the back of the machine and can lift the presser foot up and down if you need to lift it for something.
Tension Control – Tension control is important in getting a good tight stitch. Computerized and Electronic sewing machines have automatic tension control. In a manual machine, the tension of the thread is up to the sewer which can result in some loose stitches if the tension isn't correct.
Hook – The hook is the part that carries the top thread through the bobbin. Thread getting jammed is a common problem when the hook is not well designed.  The hook is needed to make the actual stitches in the fabric and one that is made well prevents the fabric from getting damaged by jammed thread.
Extra Features on Sewing Machines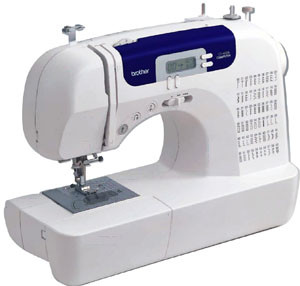 The above parts were pretty much a standard part of every type of sewing machine in some form. The things listed below are extra features that a sewing machine can have.  Some of them may automatically come with the machine you purchase but others may be able to be upgraded or added as options.
Lighting – Sewing machines that run on electricity usually have their own light that illuminates the specific sewing area where the needle is. This is important since seeing what you are doing is very important in getting a well-sewn garment. Some machines have two light sources which are even better, so if you can find a model that offers two, and it's in your budget, definitely get it. 
Speed Control – The speed you use your sewing machine at will vary according to what you are sewing. Different projects require different speed settings.  You want to get a sewing machine that has at least two speeds or that has a sliding speed button or pedal. There are machines with multiple speed settings but they may not really be necessary or even used very often.
Reverse button – You want to get a sewing machine that has a touch button close to the needle. It should activate instantly when you press it and it should be located prominently so you can find it easily.
Additional Sewing Surface – Old fashioned sewing machines had their own tables or cabinets built in. The newer models have created some extra sewing space by utilizing the accessory box in some cases.  More often than not this surface is not enough to really be of much use. You want to look for a sewing machine that offers a detachable extension.  You will find that a larger sewing surface is very beneficial when you are working on projects that need a high degree of accuracy.
Thread Cutters – Having a few thread cutters incorporated into the machine you purchase will make separating the sewing thread and fabric simple and fast.
Bobbin Winder – It is important that the bobbin thread be on the spool correctly to minimize unspooling and jamming. Some machines have a separate motor that runs the bobbin winder. Other machines have the capability to wind the bobbin directly from the needle which is very handy.
Stitch Library – Many machines have stitch libraries that have a multitude of stitch choices for the sewer to choose from. If you are a crafter or embroiderer you will find the stitch libraries very useful.
Stitch Recorder – A special feature some sewing machines have is the ability to record the length, speed needed and width for a certain type of stitch. If you switch stitches often during a project you will find this feature very helpful and time-saving.
Needle Functions – Your fabric will slip a lot less when you have the ability to set the needle position. You want the needle to end up embedded in the fabric when the machine is stopped.  Finding a machine with 10 different needle positions is ideal for most sewers.
Button hole Maker – The newer models of sewing machines can cut and sew a buttonhole as well as sew the button on. This is a great feature that will make sewing any garments with buttons much easier and makes the finished product very uniform and professional looking to boot.
Different Presser Feet – Your machine will come with a presser foot or two but there are many kinds that you can get that have different functions. These include a zipper foot, buttonhole foot, and a walking foot that is used for walking heavy thick material through the sewing process. Sewers will want to have a variety of presser feet to accommodate different projects they may want to do.
Helpful Sewing Machine "Tools"
There are some common extras that are not really considered extras when you have a sewing machine. These tools are helpful for performing certain tasks that your project and/or your sewing machine may need.
Fabric – Without fabric there would be nothing to sew, so this is a very important staple to have when you want to do a lot of sewing. Avid sewers can't usually walk by a fabric section of the store without stopping to see what fabric specials they have.  Fabrics can be made of all types of things from silk to cotton and come in an array of colors and patterns.  It's always recommended that you buy more fabric than the project calls for in case there is a problem during the sewing process.
Sewing Machine Needles – The type and weight of the fabric you are using determines the kind of sewing needle you will need. Basic needles are used for average thickness fabrics such as nylon and cotton.  If you are sewing with silk or linen you will need a different type of needle that will not damage this very fragile material.  If you're making T-shirts, then you will need to make sure you're using a ball-point needle.  Denim requires a thicker, strong needle that can withstand the thickness of the denim without breaking.
Memory Cards – These are used in computerized sewing machines to hold different patterns and embroidery designs that the sewer uses. You can even purchase them pre-programmed with certain special patterns or designs or you can program them yourself with your own designs.
Tools – In case your sewing machine needs servicing or maintenance it is a good idea to always have a screwdriver on hand and machine oil. You will need a screwdriver to take the sewing machine housing off when you are oiling it.
Patterns – Patterns are as important to a sewer as fabric. Patterns will vary according to the project you are working on and the type of sewing machine you end up getting. Patterns are reusable if you're very careful because they are made from a super thin paper that can tear very easily.  You can also get PDF patterns from the internet that can be printed out on paper.
Scissors/Cutting Wheels – A pair or two of scissors and a cutting wheel are staples of any sewers "toolbox".
Sewing Machine Case – Having a good case for your sewing machine will keep it dust free and in great condition. Some sewing machines will come with a host of accessories including a case but others you will need to purchase separately.  They are available in hard plastic or super thick tapestry style fabric.  Personal preference is more a factor in which one to get because both types will work just fine.
Sewing Vocabulary for the Beginner
All of the different sewing "jargon" can be really confusing for a new sewer. We'd provided a glossary of sewing terms for you to have so you will be able to understand what they mean in regards to sewing and sewing processes.
Auto Thread Tension – This is an automatic function that calculates the amount of thread tension you will need for the fabric you are sewing.  You can typically override this function if necessary.
Bobbin – a small metal or plastic spool that holds your thread. Bobbins are usually very tiny and they come in any color thread you can imagine.  It is part of the two thread process that sewing machines use to make a stitch.
Bobbin Case – This is the base that holds the bobbin that then fits into the slots on the sewing machine. Sometimes the bobbin case will be in the arm of the machine and the bobbin will just drop into the case.
Buttonholes – The more modern machine will actually sew buttonholes for you right into the fabric.  Depending on the machine, it'll either be a 1 step process or a 4 step process.  Fewer steps mean easier buttonholes.  Some of the advanced sewing machines offer several different types of buttonholes to choose from.
Feed Dogs –  These zigzag shaped teeth guide your fabric through the machine and every sewing machine has them.  There is a term called drop feed dog which means that it is possible to move the feed dog down away from the fabric to allow for freehand embroidery.
Free Arm – There is a cylinder on the bed of the sewing machine that allows things like pant legs and arm sleeves to be sewn.  The way the free arm is exposed is by removing a part of the sewing machine. This leaves the free arm protruding from the machine.
Hook Movement – this is available in top loading or front loading. The front loading is an oscillating movement where the bobbin moves in a half circle and the top loading is a rotary movement where it moves full circle. This movement reduces thread jams.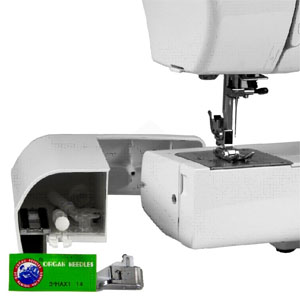 Integrated Drop Feed – As was mentioned above under the feed dog definition, an integrated drop feed is where the feed dog is dropped down so the sewer can do free machine embroidery since the fabric moves freely underneath the sewing machine needle.
Integrated Dual Feed- This feature is great for quilters due to the smooth equal feeding of two pieces of fabric that it provides.
Integrated Needle Threader – Does exactly what the name states…this attachment help you thread the sewing machine needles easily.
Knee Lifter – The knee lifter allows you to raise the presser foot without having to use your hands at all.  This is a great feature to have if you're a quilter or if you're sewing appliqués.
Lock Stitch Facility – This feature makes sure that any stitches or patterns you create are securely locked off at the end of the sequence.  It uses a reverse stitch to prevent the sequence from coming loose.
Needle Plate- This part of the sewing machine fits over the feed dogs on the bed of your machine. It has a hole that the sewing needle comes through.  Many needle plates have a size guard measurement that makes stitching seams much easier and ensures an even seam as well.
Up and Down Needle Function – This feature helps you determine where the needle finishes, either the up or down position.  This is great for going around corners.  The sewing needle should always finish in the down position, embedded in the fabric.
Presser Foot – The part of your sewing machine that holds the fabric against the feed dogs so it's not sliding all over the place while you are sewing.  It can be lifted with a lever.  There are many different types of presser feet for all kinds of sewing jobs from putting in zippers to making quilts.
Serger / Overlock – A type of stitch that sews over the edge of one or two cloth pieces of seaming, edging, or hemming. Most serger sewing machines cut the edges of the cloth as they are fed through. However, some overlock sewing machines are made without cutters.
Stitch Selector – Usually in the form of a dial that you turn, this feature allows sewers to choose a particular stitch.  On a computerized machine, the stitch selector will be a push button feature where you simply push the button of the stitch you want to use.
Thread Cutter – This built in feature cuts the thread easily and quickly after you're done sewing the piece.
Twin Needle Functionality – If you're looking for a more durable seam or even just a more decorative one, you will like this feature which gives a parallel row of stitches rather than a single stitch line.
Some Things to Remember
Having a great quality sewing machine can open up a world of creating that you never even knew existed.  Not only can you learn to sew clothing of all kinds you can sew sheets, curtains, quilts and decorative pillows.  It's something you can even share with your kids and teach them to do as well.  When you use the information in this buyer's guide you will know enough about sewing machines to find the right one for your needs and skill level.
It's exciting to get a new sewing machine and if you're new to this activity, it may seem a bit overwhelming at first. Look for continuing education classes and check with fabric shops to see if anyone is offering sewing classes or workshops so you can learn with other beginners.   Just remember to choose simpler projects to begin with, take your time and go slow.  You will get better with each new project and will find that it is a hobby that can bring you enjoyment and satisfaction for years to come.
Beginner Sewing Basics
If you are a beginner of using a sewing machine, then it may be helpful to watch a video like the one below. Beginners to sewing ought to search for the best basic sewing machine, read our buyer's guide, and prepare a space at your home for your machine and sewing endeavor.

Top 10 Best Sewing Machine Reviews