If you're looking for a machine that makes sewing easy with a plethora of automated controls, speed control and push buttons for pretty much every function you could imagine, then you have found it in the Singer 9960 Quantum Stylist sewing machine.
The design is very appealing and sleek with the controls placed in a position that makes them super easy to reach during sewing. It also has the largest LCD screen in this price range as well, making viewing a breeze also.
This machine seems to have it all and is a great sized machine with tons of features and extras that any sewer is going to love.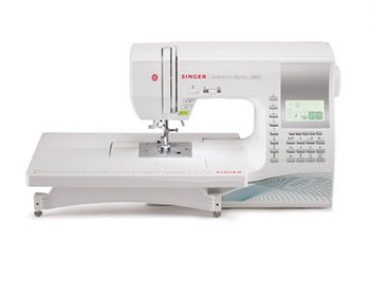 Stitches
The QUANTUM Stylist 9960 has an extraordinary amount of stitches available; a total of 600! Here are the individual kinds of stitches that you will get.
12 different types of buttonholes
34 decorative sewing stitches (including tulip, car, satin, flower, bird, plane, etc)
450 uppercase letters, lowercase letters, number and characters in 5 different fonts (Gothic, Script, Italic, Outline and Russian)
103 built-in utility stitches (including straight stretch, hemming, piercing, cross stitches, scrolls, vines and more)
The flip-up top has a reference chart of all the stitches which is much more efficient than having to pull out the manual and look them up.  You have a maximum stitch width of 7mm to work with.  You also have use of an automatic locking stitch for the decorative stitches and a tack button which helps tie off your utility stitches.
While 600 stitches may seem like too many, once you have been sewing and working with your machine for any length of time, you will be very happy to have all of those stitch choices.  These stitches can be great for adding designs to napkins, towels, sheets, and all kinds of clothing items.  This truly is a perfect machine for anyone who loves to create things and do crafting projects.
Ease of Use
Don't be intimidated by the buttons and controls of the Quantum Stylist 9960 by Singer.  All you need to do is take your time and practice with them and they will soon become second nature to work with.  Refer to the guide that is in the manual as you are learning and don't be in a rush to skip and you will learn a lot.
The buttons are large and spaced well so you don't have to worry too much about not pushing the right button.  It's very easy to just select the button for the function you are wanting.  There is a push button for pretty much every function that this machine does. They include the following:
Thread cutter, activating both the top and bottom thread cutters
Speed control slider
Needle up/down button
Start/Stop button
Electronic twin needle control button
Automatic locking stitch function
Direct stitch selection buttons to choose the stitches you use most often from the utility stitches
Tack button
Reverse button
Clear setting button
When you depress the buttons you will hear a single beep for each depression.  This function can be turned off and the only beeps you will hear will be those associated with any errors that occur.
Features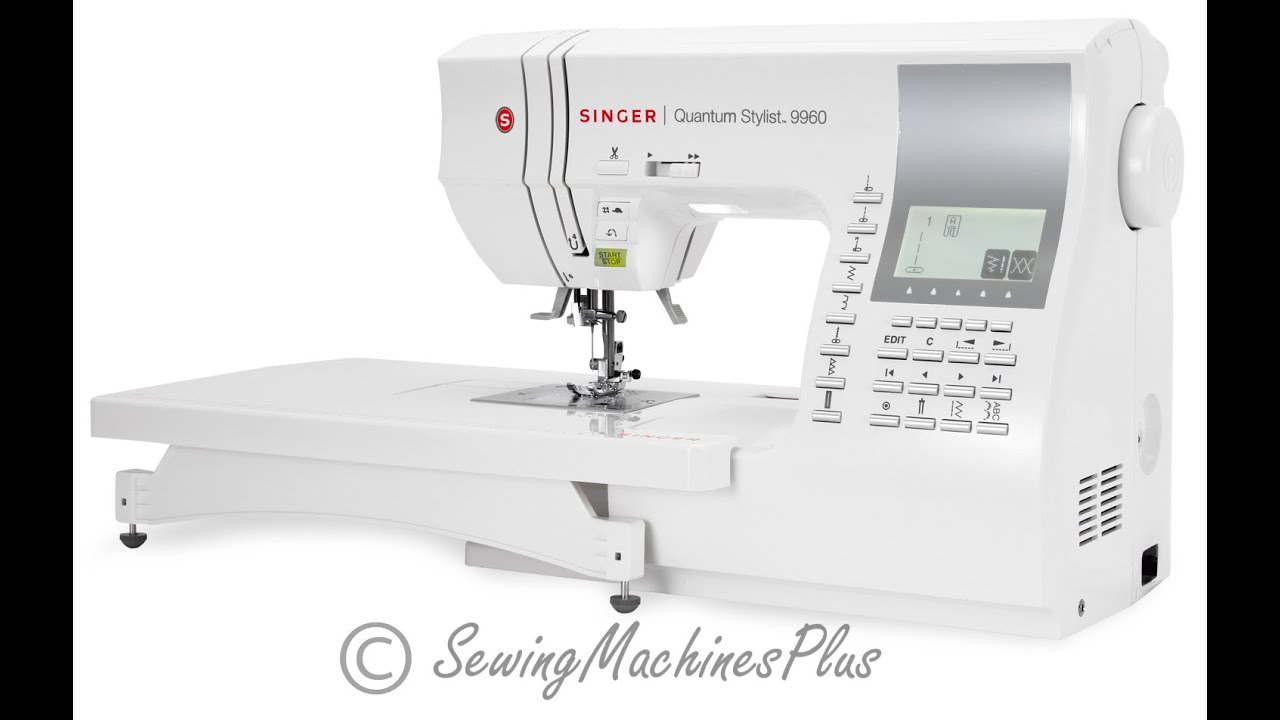 The Singer Quantum Stylist 9960 is not lacking in features in any way.  You get a whole array of things that are designed to make operation much easier and enjoyable and that allow you to create even more projects and creations.  These features include:
Top drop-in bobbin system
Clear see through cover for the bobbin
Extra high presser foot lifter
Free arm
Drop feed function
Automatic needle threader
Extra long extension table with ruler markings
Two bright LED lights with 100,000 hours
Auto reverse
25 needle positions
Horizontal threading
850 stitches per minute sewing speed
Automatic bobbin winding clutch
Built in carry handle
Never needs oil
Heavy duty metal frame
Great size for large fabric projects
Extra Accessories
You will get a nice list of extra accessories with this sewing machine along with all of the included features.  Accessories make the sewing machine much more enjoyable to use as well as easier to use. The accessories included with this model are:
5 needles
Seam ripper
Cleaning brush
2 screwdrivers
2 spool caps
Auxiliary spool cap
4 bobbins
Spool pin felt
Extension table
Quilting bar
Seam guide
13 presser feet
All purpose foot
Button sewing foot
Blind hem foot
Open toe foot
Overcastting foot
Narrow hem foot
Zipper foot
Satin stitch foot
Buttonhole foot
Cording foot
¼" foot
Darning/embroidery foot
Even feed foot
Additional presser feet that come with the 9960
Adjustable bias binder foot
Single welt cording foot
Braiding foot
Clearance plate foot
Fancy trim foot
Clear stitch in the ditch foot
Braiding guide
With all of these accessories, you will be able to add a ton of different types of trims to your clothing and other projects.
Customer Comments
Whenever someone buys a product they have the opportunity to leave comments and feedback about their experiences.  These comments can be very helpful to others who are interested in purchasing the item also but who want to know more about it.  Below are some comments that customers have made about the Singer Quantum Stylist 9960.
Warranty
There is a 25 year warranty on the sewing machine head, 5 year warranty on the motors, lights, assembly, wiring, switches, electronic components and speed control.  There is also a 1 year warranty on adjustments, belts, attachments and bulbs.  If users don't follow the requirements contained in the warranty information, it could become void.
Summary
This sewing machine is a definite customer favorite and it's easy to see why. With the huge array of features and accessories not to mention the abundance of presser feet and stitches you can create tons of beautiful clothes and home décor items.  No matter what your skill level is, you will really enjoy this machine.
For More Information and to Order Yours Now, Click the Link Below
SINGER 9960 Computerized Sewing Machine
SINGER 9960 Review
Included Features

Number of Stitches

Ease of Use

Extra Accessories

Warranty