Create your own designer clothes for your family right in the comfort of your own home with the Brother XR9500 sewing machine.
The built in decorative stitches that this machine has means you can dress up the look of towels, cushions, tablecloths, pillows and other home décor items as well.
Don't let the light weight fool you, this machine is durable and can handle projects that involve large amounts of fabric.
You can even do paper sewing if you are a crafter. It is a machine that is great for both beginning sewers and more advanced sewers.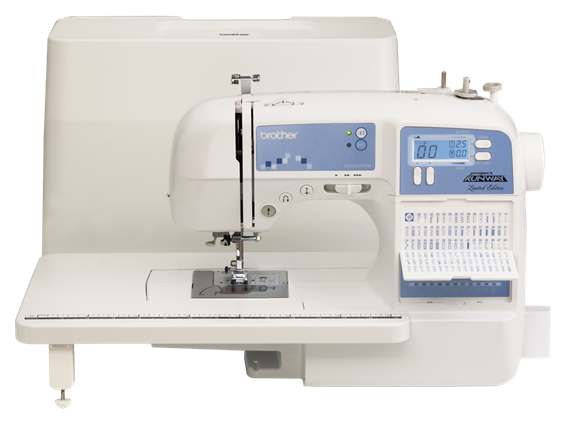 Stitches
There are 100 stitches to choose from in this model which is a bit smaller than many of the Brother models, but it is not lacking in those all important utility stitches that are for regular and stretch fabrics. You also get decorative stitches that include vines and hearts and can choose heirloom stitches as well if you are quilting.
The maximum stitch width is 7mm with a maximum length of 5mm.  You also get to choose from 8 different buttonhole designs that are all one step processes, making them super easy to do. The maximum auto buttonhole length is 1-1/8" but if you need something longer it can be created manually.
Users also have a letter font and the XR9500 is the least expensive sewing machine that has a letter font included.   It comes pre-programmed with one plain font that you can use for monogramming and labeling.  The font has 55 characters that include letters A-Z, numbers 0-9 and other characters including punctuation.   You can't add any additional fonts to this model nor can you change the font size.  Another feature stitch the XR9500 has is a mirror stitch which allows you to flip one of the decorative stitches so you can do alternating patterns of the same stitch design.
Ease of Use
Everyone wants a sewing machine that is easy to use. If you have to struggle over the controls and operations, you certainly won't like using it very much.  The XR-9500 is great for beginners and advanced users due to its ease of use.  There are three sets of buttons that operate all the functions of the machine.   These include:
2 arrow keys below the LCD screen to select the stitch you want
2 arrow keys to the right of the LCD screen that are used for setting your stitch width and length.
2 buttons to the left of the LCD screen each with an LED indicator. These are for telling the machine you are using utility stitches and the other is to tell the machine to move to the letter font stitches
4 buttons across the body of the machine above the work area are for the start/stop function; reverse/reinforce option, needle up/down function and the speed control slider. The speed control slider is a very useful setting as it caps the speed of the sewing machine so it doesn't get away from beginners who are just learning.
Another feature this model offers is a default beeping sound that goes off every time a button is pushed. Once you have gotten the hang of everything, you can shit this feature off. The directions on how to do that are in the manual.  The included instructional DVD helps users learn how to use all the features and the manual is easy to read as well.
Features
There are many features included in the XR9500 which might surprise some since it is so expensive.  One of the favored features is the automatic needle threading which saves your fingers from getting pricked all the time.  The built-in thread cutter is also very handy. The flip chart that lists all the included, built-in stitches is very user friendly.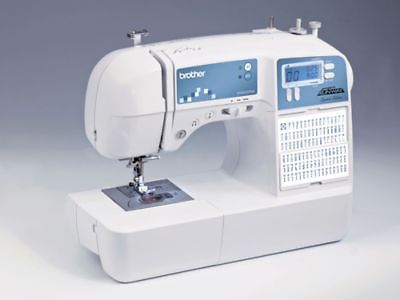 Add in the quick-set bobbin that is drop in, the auto bobbin winding, drop feed capability and free arm sewing with the flat bed attachment removed all make using this machine much easier and enjoyable.  The bright LED light illuminates your work area so you can see what you're doing and it has a see through bobbin cover as well.  Other features include:
Light weight at only 9.92 pounds
Adjustable manual thread tension
850 stitches per minute speed
Needle threading system
Twin needle capable
Presser foot pressure adjustment
Accessory storage compartment
Quick change presser feet
Hard cover
Built-in handle
Extra Accessories
Accessories are always a plus and this sewing machine comes with plenty.   These accessories are all designed to make the machine run better and increase your productivity.  These accessories include:
Buttonhole foot
Overcastting foot
Monogramming foot
Zipper foot
Zigzag foot
Blind stitch foot
Button fitting foot
Needle set
Twin needle
Ballpoint needle
4 bobbins
Extra spool pin
Seam ripper
Cleaning brush
Screwdriver
Power cord
Detachable oversized wide table
Accessory pouch
Customer Comments
Customer feedback is invaluable for learning about the performance of the sewing machine. Most people will willingly share their experiences, good and bad, with a product they purchase and this information can give you a lot of insight into the product and help you decide if it is something that would fit your needs.  Below are some of the things that customers have to say about the Brother XR9500.
Warranty
This model has a 25 year limited warranty on it from Brother on the chassis casting, 2 year warranty on the electronics and circuit boards and 1 year on labor and parts.  It's also bee UL (Underwriters Laboratories) and CSA certified stating they meet certain criteria by the US and Canada.
Summary
If you want a sewing machine with a lot of features and function, this is definitely one that you should seriously consider for your own sewing endeavors, especially if you love designing.  It has a large array of patterns and functions that will help you create clothes that look like they came from trendy department stores.  The price is good, the weight is light and easy to transport and it carries the excellent, highly regarded Brother name.
For More Information and to Order Yours Now, Click the Link Below
Brother XR9500PRW Sewing Machine
Brother XR9500PRW Review
Included Features

Number of Stitches

Ease of Use

Extra Accessories

Warranty