This entry level sewing machine from Janome is a great choice for beginning sewers. New sewers don't usually want or require state of the art sewing machines with all of the bells and whistles and hundreds of stitch choices.
While advanced sewers love them, a beginner usually wants something that is simple to learn the basics on and simple to operate. The Janome 2212 fits that nicely.
This model does have several features that are equivalent to an older machine and that makes it very user friendly for someone just starting out.
The reliability of the 2212 is one of its selling points for newbies. It can even be as good choice for an experienced sewer who may need a machine strictly for simple straight sewing as a secondary machine.
It has been reported to be a bit noisy but that seems to be in part because to access the drop feed, the bobbin door must be open and the accessory case needs to be removed as well which both have a muffling effect on the noise but it does not seem to be detracting from the fact that it is a customer favorite when it comes to basic, entry level sewing machines.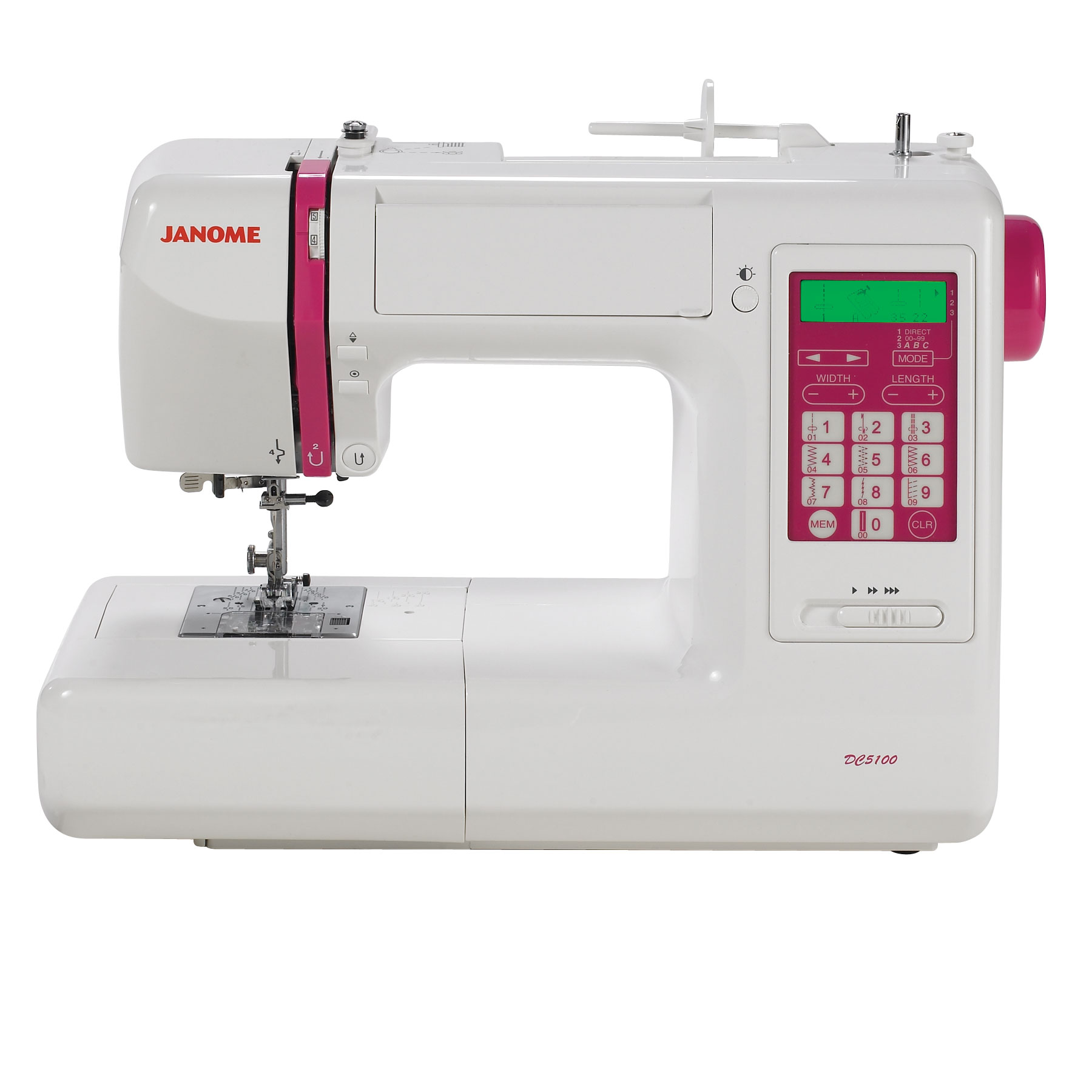 Stitches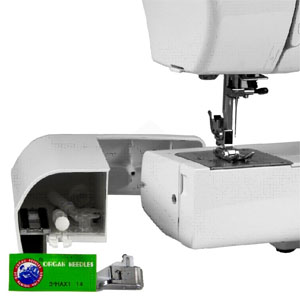 The Janome 2212 offers users 12 built in stitches to choose from.  The length and width can be adjusted if necessary. It's easy to choose the stitch you want with the convenient stitch selector dials. You can adjust the length and width with dials as well.  Stitches are neat and straight and the speed is a good average to slightly above 860 stitches per minute.
With such high quality stitching, you can easily make great quality garments that you can be proud of and know that the stitching will hold up.  With there only being 12 stitches to choose from, just dial the selector dial to the correct letter and stitch length and width on the dials and you're all set.
Ease of Use
Since the Janome 2212 is such a basic machine, users find it simple to operate and learn on.  Threading and winding the bobbin are not frustrating tasks at all thanks to the convenient and efficient design. The super easy to follow guidebook is a must have for newbies and takes you through the operations of every part of your sewing machine.
There is little to no vibration when using this sewing machine which means perfectly formed stitches to look forward to. Since it is noisier, you may want to think about using it late at night or when anyone is sleeping unless you have a dedicated room for it that will deaden the sound.
Features
There are many features that the 2212 has that users new and old alike will enjoy using.  It may not have a lot of the state of the art features that the computerized models have, but the ones it does have make it that much more enjoyable to run and use.
Here is a list of the features you can look forward to with this great model.
860 stitches per minute sewing speed
Drop feed dog for quilting and free motion sewing
Dial selector for stitches
Snap on presser feet
Manual tension control
4 step buttonhole available
Lightweight and easy to move at 15.6 pounds
Built in thread cutter
Time saving bobbin winder
12 stitch options
 Extra Accessories
There are several accessories that the Janome 2212 offers to make sewing more convenient and enjoyable.  These accessories are very helpful in the day to day operation of the sewing machine.  The included accessories are:
All purpose foot
Zipper foot
Sliding buttonhole foot
Blind hem foot
3 bobbins
Small screwdriver
Seam ripper
Needle set
Owner's manual
Foot control
Customer Comments
Customers love to talk about their personal experiences with a product they have bought and whether those comments are good or bad, a prospective buyer can learn a lot from them.  These comments are a great way to see what the performance of the 2212 is and what people think about it when they are using it.  Many people make their decisions to purchase solely on customer feedback alone, so it is a very valuable tool to getting an inside opinion of what a product is really like.  Below are comments left by customers who have bought and are using the Janome 2212.
Warranty
Janome offers a 25 year limited warranty on the 2212.  This is a very long term warranty that can give users peace of mind that the machine they've bought is a very good one. A long warranty shows that the company stands behind the workmanship of their products and that is very important. Be sure to check the warranty so you know what you need to do to make sure that it remains active.
Summary
The basic operations and simple design of the Janome 2212 is perfect for a first time sewer or younger sewer that needs to start off a bit slower.  Durability and quality is high on the priority list with the Janome 2212 and that means stability for the sewer.  It has features that make operating it easier and it's simple to learn and work with.   This sewing machine is great for basic sewing of clothing and décor items like towels and curtains.  It is strong enough to handle all kinds of fabric without problem.  If you are looking for a great machine to get started on yourself or you are buying for your child, you will love this machine.
For More Information and to Order Yours Now, Click the Link Below
Janome 2212 Review
Included Features

Number of Stitches

Ease of Use

Extra Accessories

Warranty