With a name like the Confidence Quilter, this Singer sewing machine can inspire confidence in anyone who wants to learn quilting or who already does quilting.
It's a good machine for beginners and more advanced sewers as well.  It has several features that enhance the usability of this machine and that make it a good machine to learn on.
It has a heavy duty metal frame along with some plastic parts as well and holds up well for moderate use.  It's not as solid as the old fashioned, super heavy Singers used to be, but it holds its own and users like its performance.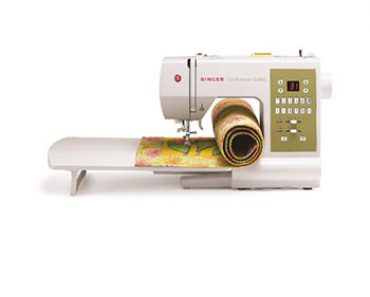 Stitches
The Singer Confidence Quilter Sewing Machine has 100 total stitches to choose from which is actually on the lean side when it comes to stitch choices.   The stitches that are included in the stitch choices are:
7 different kinds of buttonhole stitches that are 1 step
Infinite bartack buttonhole stitch that will make a buttonhole as long as you want
8 essential stitches
77 decorative stitches
Stretch stitches
These stitches enable users to do a variety of fashion sewing, quilting, heirloom sewing, crafting, home décor, decorative sewing on clothing and other items and much more.  It is a good amount of stitches for a beginner who is just starting out, but more advanced sewers may find the choices a bit lean.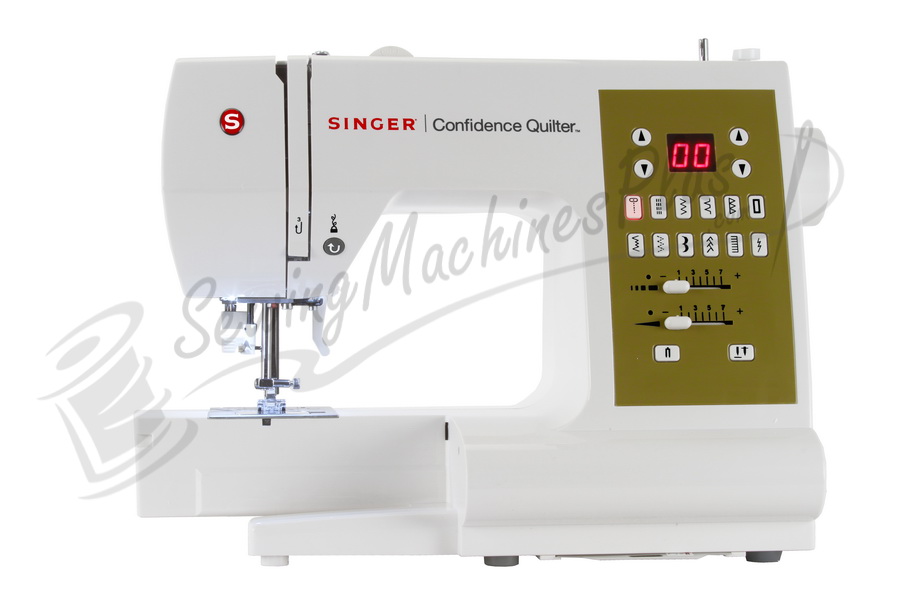 The stitch width and length is adjustable up to 7mm both ways depending on the type of stitches you are using.  Choosing the stitch you want is very easy with this machine.
There is also a pull out reference guide on all the stitch patterns located at the base of the sewing machine so you can get to know the stitch choices and what they look like.
To choose a stitch use the two up/down arrow keys that are on either side of the easy to read LED screen.  The arrows on the left side will be to choose the first digit of the stitch number and the arrows on the right control the second digit of the stitch number.
To make stitch selection easier, there are 12 one-step stitch selection buttons that are for the most commonly used utility and decorative stitches.  Instead of scrolling through all the numbers, you can choose those popular ones right off the bat with just the push of a button.
Ease of Use
When a beginning sewer is looking for a sewing machine, they want it to be easy to use. The Singer Confidence Quilter Sewing Machine is a good choice for beginners and advanced sewers too.  This machine has a lot of automation yet you can fine tune the settings manually if you need to, as your skills increase.
With all of these automated or nearly automated features, using this sewing machine is very easy and a beginner can feel at home fairly quickly.
Features
The more features a sewing machine has, the more the user can do with it. This Singer sewing machine has many features that allow the user to do a multitude of projects.
Automatic and adjustable thread tension
Programmable Needle up/down button
13 needle positions
Automatic bobbin winder
Twin needle control and sewing capability
6 point feed dog system
Automatic needle threader
Drop and sew bobbin system, top loading
Optimum power control drop feed dog system
Self lubricating
Extension table for larger projects
100 stitches of different types including buttonhole stitches
Extra Accessories
Extra accessories are always nice and the Singer Confidence Quilter has plenty they offer users.  Included in the extra accessories list is:
Zipper foot
Buttonhole foot
Even feed/walking foot
Satin stitch foot
¼" foot
Blind hem foot
Open toe foot
Darning/embroidery foot
All purpose foot
Pack of needles
Screwdriver
Seam ripper
Lint brush
Extension table
Spool caps
Class 15j bobbins
Soft-sided sewing machine cover
Power cord
Foot control
Quick start guide
Instruction manual with stitch guide
Machine intro DVD
Customer Comments
If you would like to get more information about this great sewing machine, the best way to do that is to read customer feedback and comments from people who have purchased it and are using it themselves. Most people are happy to give their opinions on a product and will tell the good and the bad about it.  It's a great way to get some inside information on a sewing machine you are considering getting for yourself or a loved one. Below are some of the things that customers have to say about the Singer Confidence Quilter Sewing Machine.
Warranty
Singer offers customers a 25 year limited warranty on the Singer Confidence Quilter Sewing Machine.  It is broken down in the following ways:  25 years on the machine head, 5 years on the motor, lights, wiring, switches, electronic components and the speed control and 1 year limited warranty on adjustments, belts, rings, bulbs and attachments, be sure to follow the requirements that are stipulated to keep the warranty valid.
Summary
If you want a good, better than very basic sewing machine for yourself or someone else that is a beginner, this is a good choice.  It will be a good machine to start on and has many features that make it easy to learn.  You may find that as your skill level increases, you will want a more challenging machine that has more features and accessories, but there is a lot for a beginner to learn on this one that will keep them busy for awhile.  It's a great machine at a great price.
For More Information and to Order Yours Now, Click the Link Below
SINGER 7469Q Confidence Quilter Computerized Sewing and Quilting Machine
SINGER 7469Q Review
Included Features

Number of Stitches

Ease of Use

Extra Accessories

Warranty