Sturdy construction and user friendliness are two of the draws for the Janome HD1000 Heavy Duty Sewing Machine.
It has a heavy duty aluminum body construction that works really well for a sewer who has projects with a wide range of fabric types.  The easy to follow instructions make it a great choice for beginning sewers.
The Janome HD1000 is a great combination of the old fashioned rugged machines your grandmother probably used and the newer features like automation that add versatility to the old and brings it into the present.
With this machine you won't have to worry about skipped stitches and bunching. You get all of the features a beginning sewer needs plus heavy duty longevity to handle any jobs you want to tackle, all at a price that you won't believe.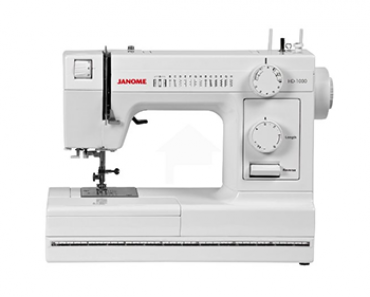 Stitches
The Janome HD1000 doesn't have a lot of stitch choices the way some other machines due.  Users get 14 built-in stitches that include the most popular utility stitches and stretch stitches as well as a 4-step buttonholer.   You can select the stitch you want to use with the selector dial and users can select the stitch length and width as well. The maximum settings for both length and width are 5mm for width and 4mm for length.  For your convenience there are metric and standard measurement markers that are located on the needle plate.
Ease of Use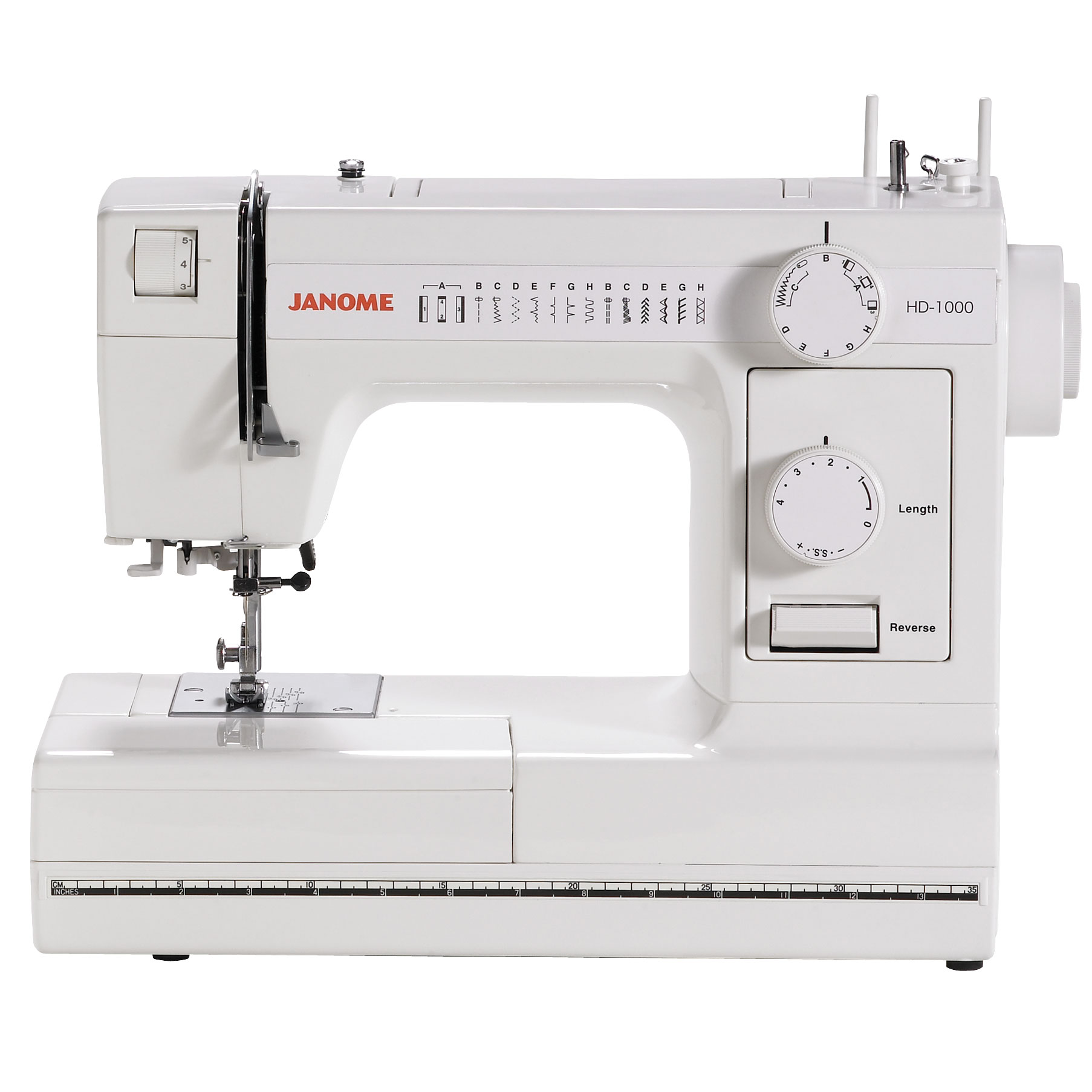 User friendliness is always a plus, especially for a brand new sewer. Even though most of the functions on the Janome HD1000 are manually set, there is an automatic needle threader that makes things much simpler in regards to threading the machine.
This is one of the tasks that new sewers have the most trouble with so this feature is an appreciated one.
The free arm that this sewing machine has makes sewing collars and cuffs much easier which is great for sewers who want to make their own clothing.
The tension control is easy to adjust and there is a drop feed for attaching spool holders and buttons.
Getting to your accessories is easy since they are in the storage area that is built right into the machine. You won't have to worry about misplacing anything anymore with convenient storage like that.
Features
Everyone who wants a sewing machine wants to see a list of features that will make operating the machine easy and even fun.  Despite the simple design and old fashioned feel of this sewing machine, there are plenty of features that you can use to make the sewing operations easier. These features include:
Free arm
Drop feed
Automatic needle threader
840 stitches per minute sewing speed
1 – 4 step buttonhole
Cast aluminum body
Built in needle threader
Reverse stitching lever
High presser foot life for sewing bulky fabrics
Dust cover for the machine
14 built in stitches
Stop motion bobbin winder
Thread cutter
Snap on presser feet
Lay-in thread tension control
2 spool holders for dual needle sewing
Electronic foot control
Accessory storage compartment built in
3 point feed dog
Stitch selection dial
Front loading vertical oscillating hook bobbin
Stitch chart
Extra Accessories
Users will get some extra accessories when they purchase the Janome HD1000. These accessories assist the user in operating the sewing machine and are good to have.
The accessories can be stored in the onboard storage that the Janome HD1000 has which means no more lost accessories or looking around for things when you need them.  The list of accessories that are included are:
Buttonhole foot
Hemmer foot
Zipper foot
Bobbins
Spool pin felt
Needle set
Machine oil
Hem guide
Foot control
2 screwdrivers (1 large and 1 small)
Instruction book
Cover to keep dust off the machine
Seam ripper
Buttonhole opener
Customer Comments
If you want to know how the Janome HD1000 compares to other models of sewing machines that you may be looking at, just check out the customer feedback and comments section.  People will willingly tell others about their personal experiences with a product they have purchased and you can use this information to see how the sewing machine performs, what customers think of it and even learn about the bad things people may be saying about it. Below are some of the customers' comments that have reported about the Janome HD1000.
Warranty
Janome offers a 25 year limited warranty on its products which gives customers peace of mind and shows them that they stand behind their company's workmanship.  Make sure you register the sewing machine when you get it so the warranty is active and know what your requirements are to keep the warranty intact.
Summary
The Janome HD1000 is a durable, well built sewing machine that many call a workhorse.  It can sew through almost any kind of material and the price is excellent too.  If what you're looking for is the basics being covered and a well constructed, tough machine that is going to last, this is the machine for you.
For More Information and to Order Yours Now, Click the Link Below
Janome HD1000 Heavy-Duty Sewing Machine
Janome HD1000 Review
Included Features

Number of Stitches

Ease of Use

Extra Accessories

Warranty