Your projects will have a super professional, high end look when you create them with the Brother SE400 Combination Sewing and Embroidery machine.
This computerized sewing machine is budget conscious while providing you everything you could need to create any type of project.
Not only can you sewing projects of all kinds, but you can do embroidery, crafting and home décor projects with this model as well.
The computer connectivity that the Brother SE400 allows users to keep their machine updated and they can also import embroidery designs straight from the computer that they love.  There are a lot of features and extra accessories that we will outlined below, and the LCD backlit display is easy to read and is touch screen too. It has tutorials for the beginner as well.
The built in memory holds 512 kb of data, which isn't a lot but you can get a memory card that is compatible that you can use to hold your designs and load them into the machine's slot.  It also has a small single embroidery hoop that isn't necessarily optimum for the users but that is a minor thing when compared to the pluses the machine has.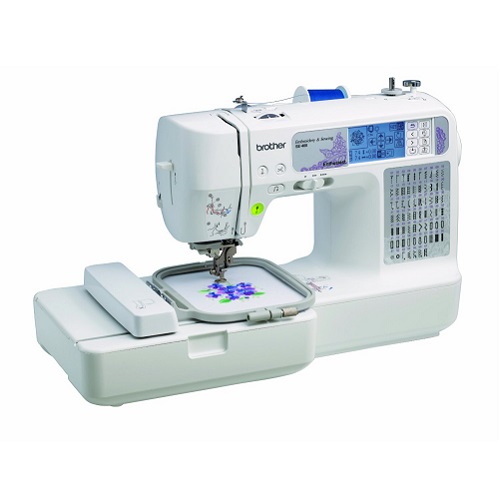 Stitches
The Brother SE400 has tons of stitch choices, embroidery designs and fonts too.  You will get 70 built in embroidery designs, 67 sewing stitches and 98 stitch functions to work with.  In addition, you have 120 frame patterns and 5 lettering fonts; definitely tons to work with for variety and versatility.
Ease of Use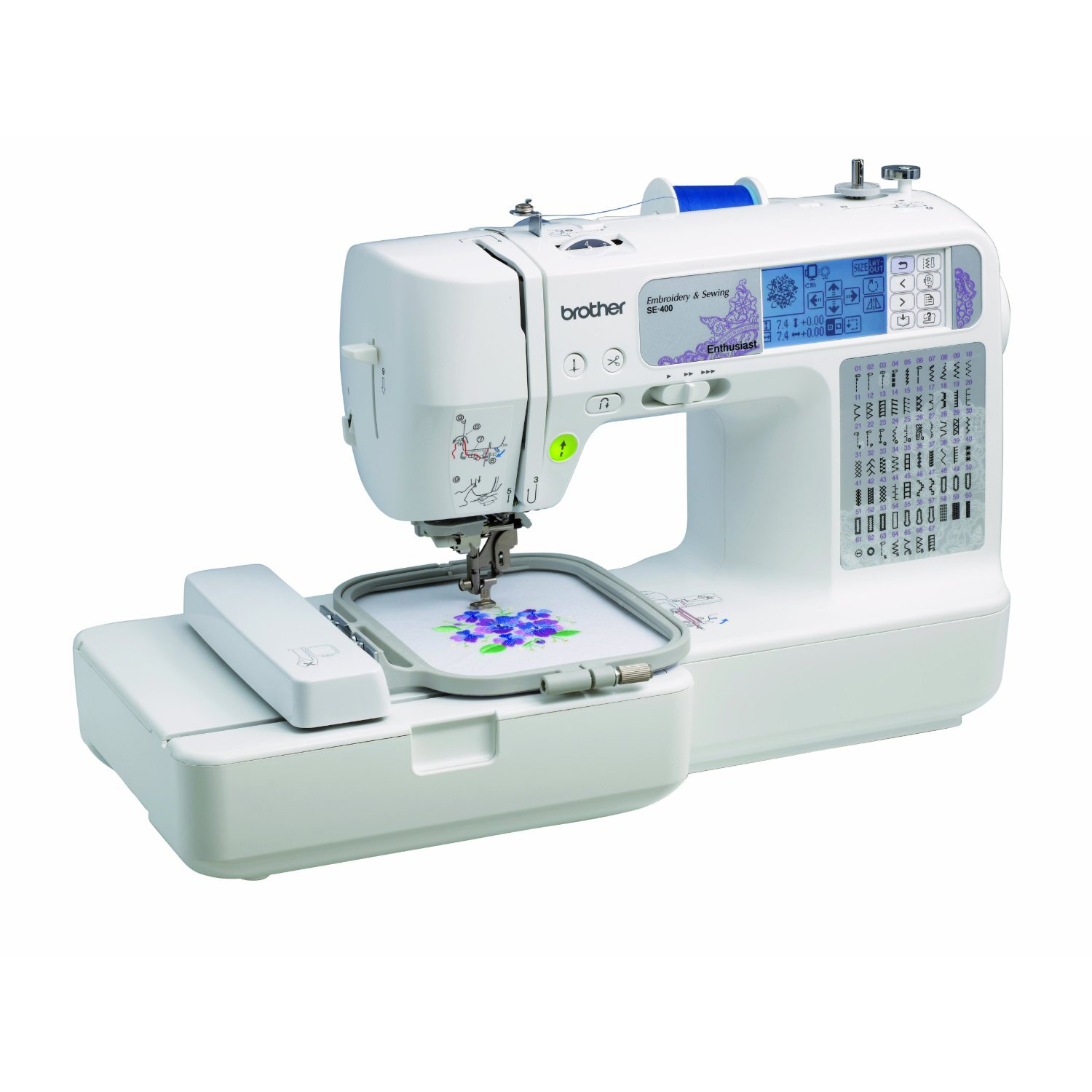 There are many easy to use features with this sewing machine.  It's a good choice for beginners with the tutorials that are available that can help users get started in embroidery as well.
The easy to use LCD display allows you to access your built in designs, watch tutorials, and control the design editing features.  Bobbin preparation and needle threading is super easy too.
Features
When people buy a sewing machine, they want to buy one with a lot of features and this model certainly fits the bill in that regard.
Some of the great features of the Brother SE400 includes a wide embroidery area that is 4×4, a built in super bright light, bobbin prep and winding, LCD touch screen with computer connectivity, one touch automatic threader and thread cutter, and much more. Whether you are just getting started with sewing or have been doing it awhile, you will be impressed with how easy it is to learn on and use.
Extra Accessories
Accessories are always a plus when it comes to a great sewing machine and this one has plenty!  Included with your machine is:
Soft cover to protect from dust and dirt
Free arm/accessory compartment
Embroidery arm
4×4 embroidery hoop
Several presser feet including:
Button hole foot
Overcasting foot
Zipper foot
Button fitting foot
Monogramming foot
Blind stitch foot
Embroidery foot
USB cable
Power cord
Bobbin thread for embroidery
Accessory bag
Seam ripper
Needle set
Cleaner brush
2 screwdrivers
Touch pen
3 Spool caps
Scissors
3 bobbins
Customer Comments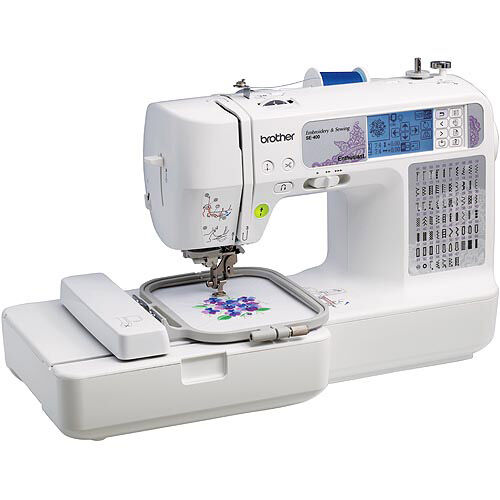 If you want to get a really good idea of how a sewing machine performs and what people think about it, check out customer feedback and comments.  Most people are very honest and straightforward about their opinions and experiences and this information can help you decide if this model is the right one for you.  Below are some of the comments that people are saying about the Brother SE400 computerized sewing and embroidery machine.
"First time sewer and it is very easy to do and learn on this machine!!!!"
"I would definitely recommend this, especially for first time Brother users as we were this machine has impressed us a ton."
"An awesome little machine. Embroiders and does straight stitch sewing as well. I am so glad I found it!"
"I have enjoyed learning embroidery with this machine."
"I love this machine. Easy to learn. Embroidery is beautiful, perfect every time. And what a bargain."
Warranty
The long warranty and free phone support show the company's dedication to their customers.  You get a 25 year warranty to give you peace of mind that you have an excellent machine that is going to stay excellent.  They stand behind their workmanship and want their customers to know that they will help take care of any concerns their customers may have.
Summary
If you're looking for a great machine that you can sew AND embroider on, the Brother SE400 may just be what you're wanting.  With an array of embroidery designs and stitches to play with, beginners and experienced sewers alike will have fun with their projects.  The price is incredible and fits into most budgets easily.   The Brother name is known for high quality and this machine is a great example of that.  You won't be disappointed by all that this sewing machine offers regardless of your skill level.
For More Information and to Order Yours Now, Click the Link Below
Brother SE400 Combination Computerized Sewing and Embroidery Machine
Brother SE400 Review
Included Features

Number of Stitches

Ease of Use

Extra Accessories

Warranty